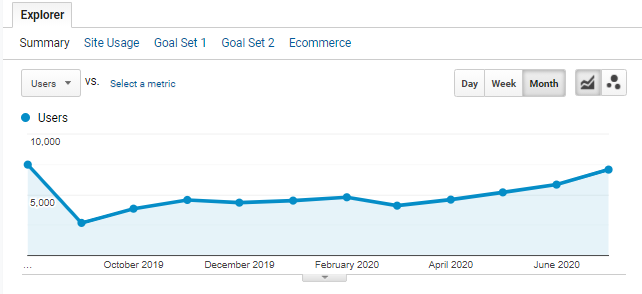 Website traffic dynamics from September 2019 to July 2020
1 Task
Our client — a plastic surgeon, contacted Netrocket after a sharp drop in monthly traffic on the site from 7,000 to 2,000 users. The reason is the September 2019 Core Update, aimed primarily(predominantly) at resources related to Your Money Your Life (YMYL). Our specialists were tasked with regaining the lost positions.
2 Working plan
After reviewing a lot of materials about the Google Medic Update, SEO specialists have drawn up a work plan:
Analysis of the site's link profile.
Creation of quality, authoritative content.
Creation of an author page.
Adding certificates confirming the competence of the author of articles.
Adding links to author profiles on social networks.
Adding pages: About us, Privacy Policy, User Agreement.
3 What was done
Analysis of the site's link profile
We analyzed all donor domains. "Bad" donors were not found (since the site is young), and we were initially engaged in building a link profile.
Creating quality, authoritative content
We found information on the forum that all medical articles should now contain a list of contraindications to procedures and drugs. Therefore, we have included the relevant section in all new articles.
Before writing the texts, the content manager composed a detailed brief for the plastic surgeon to avoid factual errors and present the information as truthfully and objectively as possible.
Also, we approached the selection of copywriters very seriously: we collaborated only with those authors who previously had experience writing medical texts. They were able to reveal the nuances of plastic surgery in blog articles deeply.
Creating an author page
Since we worked on the personal site of the plastic surgeon, our client was indicated as the author of all articles. Under each article posted a short biography, a link to the About the author page, links to the doctor's pages in social networks.
Adding certificates
The certificates have already been posted on the site's main page, and we have duplicated them on the About the author page.
Adding About Us, Privacy Policy, and User Agreement pages
According to the Law of Ukraine "About the Protection of Personal Data", the last two pages necessarily must be on any website that uses the personal data of users.
4 Results
We reworked all blog articles on the site, rewrote all commercial pages, and wrote many new articles. After six months of work began, there was a growth in positions and traffic, and traffic is still growing today.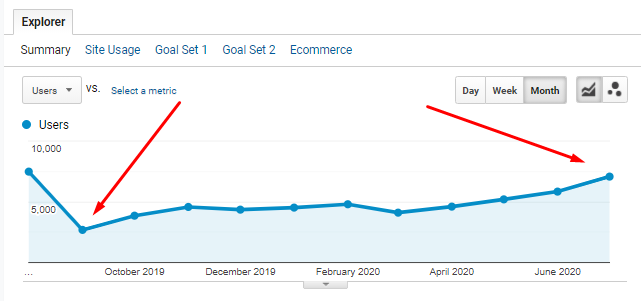 5 Conclusions
The situation showed how vital the quality of content in the YMYL topic is. Therefore, to protect the site from traffic drawdown when updating Google algorithms, you need to work on the compliance of the resource QRG (Quality Raters Google) and EAT (Expertise, Authoritativeness, Trustworthiness) constantly.