+593 leads
in B2B niche for 3 months
For the first time, the client contacted Netrocket in 2017. The brand already had some awareness, but the site design was outdated and mobile loading speeds were slow. Therefore, we began work with drawing up recommendations for improving the site design.
The implementation was not fast, but many elements were reworked as a result. For example, separate pages were created for those business areas in which SMS service is most in demand, examples of calculating the effectiveness of SMS campaigns in each area are given.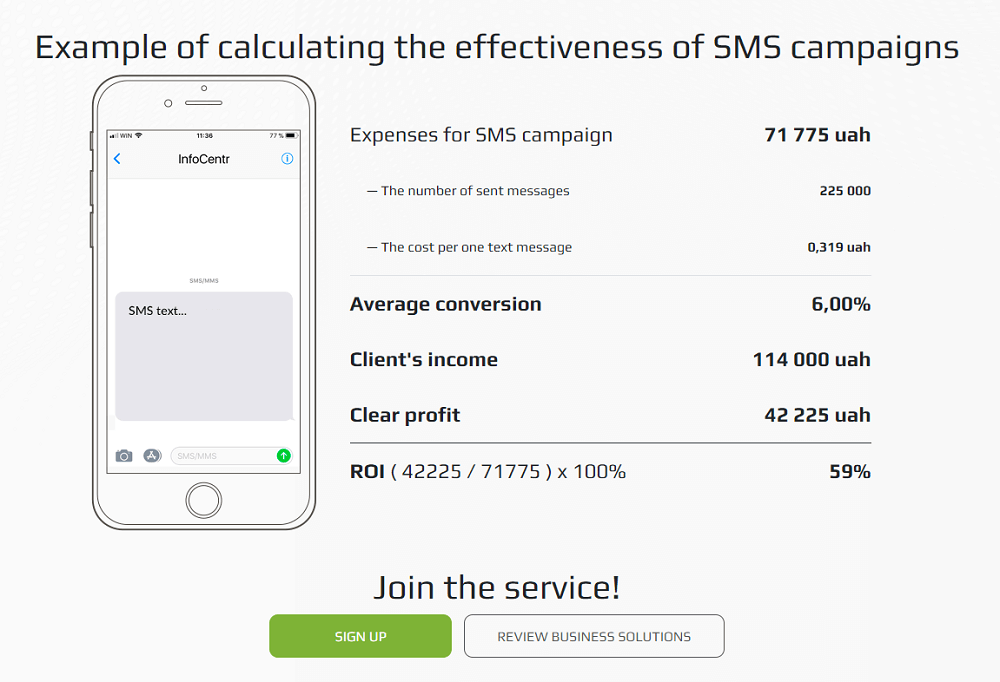 Also, answers to frequently asked questions about the operation of the service were added, a page was created for mailings in Viber, an extended price list was registered, and the adaptability of the site for mobile devices was configured.
And in July 2021, our PPC specialists were tasked with:
create and scale ad campaigns;
reduce the cost of conversion by 1.5-2 times;
double the number of leads.
The results for 3 months of running an advertising campaign: 283 leads at a price of 290 UAH, costs — 82200 UAH.
Results of the advertising campaign before the work of Netrocket specialists, March – May 2021
At the same time, due to incorrect display and slow loading of the site on certain types of mobile devices, mobile traffic was cut down by negative bid adjustments.
Execution / Optimization Process
When all the work on the site was completed, we set up goals and launched ads in all directions that the client wanted to scale, using all relevant keywords. At the same time, we faced the following challenges:
high competition;
high CPC in a niche;
high website bounce rate.
Full list of work performed:
We rewrote the ads, removed general phrases from them, and focused on maximum information content and clear USPs.

Launched smart and dynamic campaigns to reach low-frequency keywords that don't show ads in regular search and get conversions from them.

Added automatic rules for easier monitoring of the situation in the account.

Added adaptive ads with numerous titles and descriptions. This allowed us to create unique ads and show the user the most effective of them.

Negative keywords have been carefully worked out.

Stopped expensive and ineffective client campaigns with a high cost per request.

Launched campaign split budget experiments to determine a strategy where we could get more conversions at a lower cost per click.

Developed banners for the Google Display Network and remarketing..

Rates have been adjusted by gender, age, and cities.
For 3 months of work on the project, we have doubled the number of requests from advertising: from 290 to 593; reduced the cost of the conversion by 1.5 times: from UAH 290 to UAH 185, thus fully completing the tasks set by the client.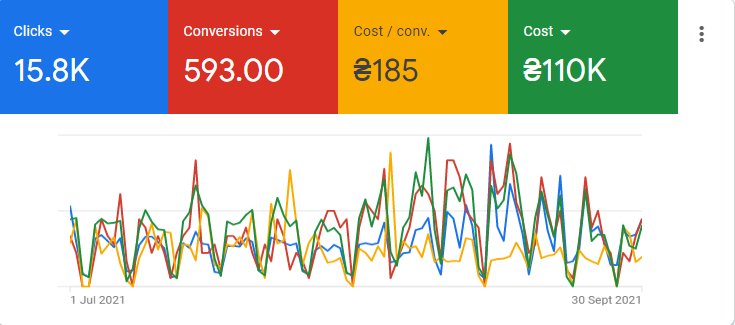 Results of work of Netrocket specialists, July – September 2021
Summary / Conclusion Takeaways
Our experience has shown that even in the face of fierce competition, it is possible to attract traffic and leads at an acceptable cost. This requires:
Don't be afraid to increase budgets in campaigns.
Be able to analyze reports and draw the right conclusions.
Leverage tools such as Ahrefs, Serpstat to parse competitor keywords and as a result expand your campaigns.
Perform additional analysis of both search and display campaigns for various periods of time in order to properly reallocate the budget and increase the number of conversions.
Choose the right strategy at the level of each campaign using experimentation. This will allow you to increase the number of orders from search campaigns and reduce CPA (cost per action).
To understand the importance of such concepts as site usability and adaptability, to be able to correctly compose technical specifications for a designer, developer, in order to turn a site into an effective sales tool.
Developed recommendations for redesigning and improving website usability. Updated the Keyword research. Posted new ads. Launched Google Ads. We got 593 leads in less than 3 months.