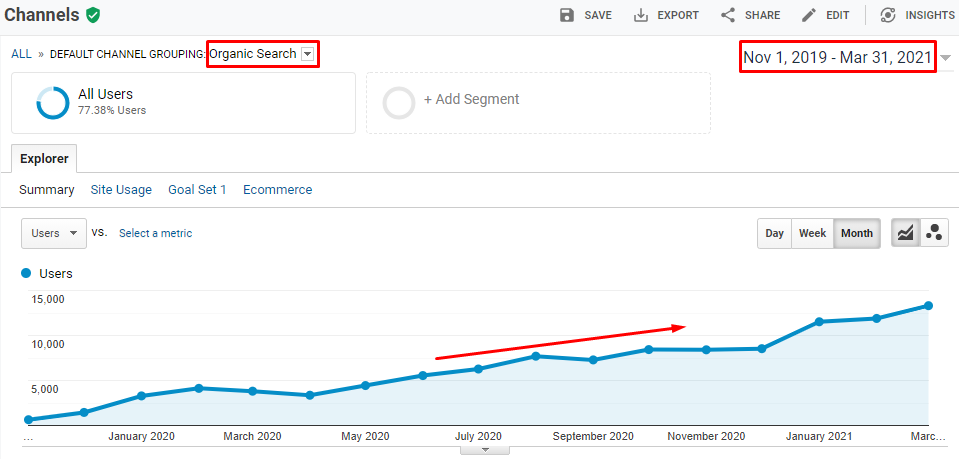 In March 2021, the site was visited by 16 442 users
Task
Our client's website is the full-service medical center that combines a children's medical center, adult and pediatric dentistry. The Netrocket team had an ambitious task: creating an SEO-friendly site that completely meets the client's needs and promotes it to the TOP in the shortest time possible.
Stages of work
1 Preparation
Competitor analysis. According to the market analysis, there are no good examples of the well-ranked competing sites in the target region. Therefore, our SEO specialists analyzed sites aimed at other regions.
Keywords research to create an SEO structure for the website.
Website creation.
Making a content plan and writing content.
2 On-page optimization
Technical website optimization.
Generation of user-friendly-URL.
Generation of correct Robots.txt and Sitemap.xml files.
Elaboration of the internal linking of the site.
Implementation of 2 types of micro markup Schema.org and Open Graph.
Optimization of title, description tags, headings H1 – H6, and Alt.
3 Off-page optimization
Analysis of competitors' backlinking profile.
Making an anchor list for promotion.
Selection of quality donors in the niche.
Publication of articles on thematic resources.
Placement of press releases.
Registration in the site's catalogs.
4 Filling Up
This stage took us a lot of time. We have been looking for copywriters who would meet our requirements: write, take into account SEO features, and understand the specifics of the medical business.
We have been discussing some details with the client for a long time. Doctors read all the articles, so there were many corrections. From our side, we insisted on preserving keywords in the articles. Doctors, in turn, flatly rejected unprofessional names for procedures, symptoms, diagnoses in the texts.
A striking example is the keyword "panoramic X-ray". The doctors insisted that we should use only the professional term "orthopantomogram." But we managed to convince the client that the more simple name of the procedure is more essential to use in the text.
In March 2021, the site was visited by 16 442 users. 65% of keywords are in the TOP 10 (1080 search queries out of 1660):
We have achieved this result in 1 year. The website's organic traffic is still growing today.
Our experience has shown that you can achieve excellent results with a competent approach, even in complex niches. We have completed the task, and we continue to work.