The result of the launch of advertising in Google Ads in the period from June to July 2021
1

Task

In March 2021, Netrocket was contacted by a company that provides services for bringing local businesses to foreign markets. Independent attempts of the client to set up Campaigns in Google Ads for 2 months brought 63 requests at a price of 545 UAH. The total costs amounted to UAH 34,300.

The results of the client's ad campaigns at the time of contacting Netrocket
Our specialists were faced with the task of increasing the number of requests, while reducing their price. We set up ads in all the areas that the client wanted to run and scaled up for all relevant keywords. At the same time, they met the following limitations:
Few direct commercial inquiries.
Users seek information, not services.
Direct and Indirect Competition. For example, for the query "grain export", the client has to compete both with similar companies and with the transshipment terminal, customs clearance organizations, etc.
2

What was done
Launched search ad campaigns for export-related queries (export of grain, timber, honey, nuts).
Launched additional campaigns for webinars from a client and books on organizing export activities from scratch.
We set a positive rate adjustment by the hour: +30% from 11:00 to 17:00, since the number of requests left is higher during this period and -30% for the remaining period of time.
Created ads based on search queries.
Launched a campaign on competitors and chambers of commerce.
Carried out continuous optimization of campaigns based on the results of the maintenance. For example, for one of the campaigns, the display on phones was disabled due to the high cost of the application from mobile devices.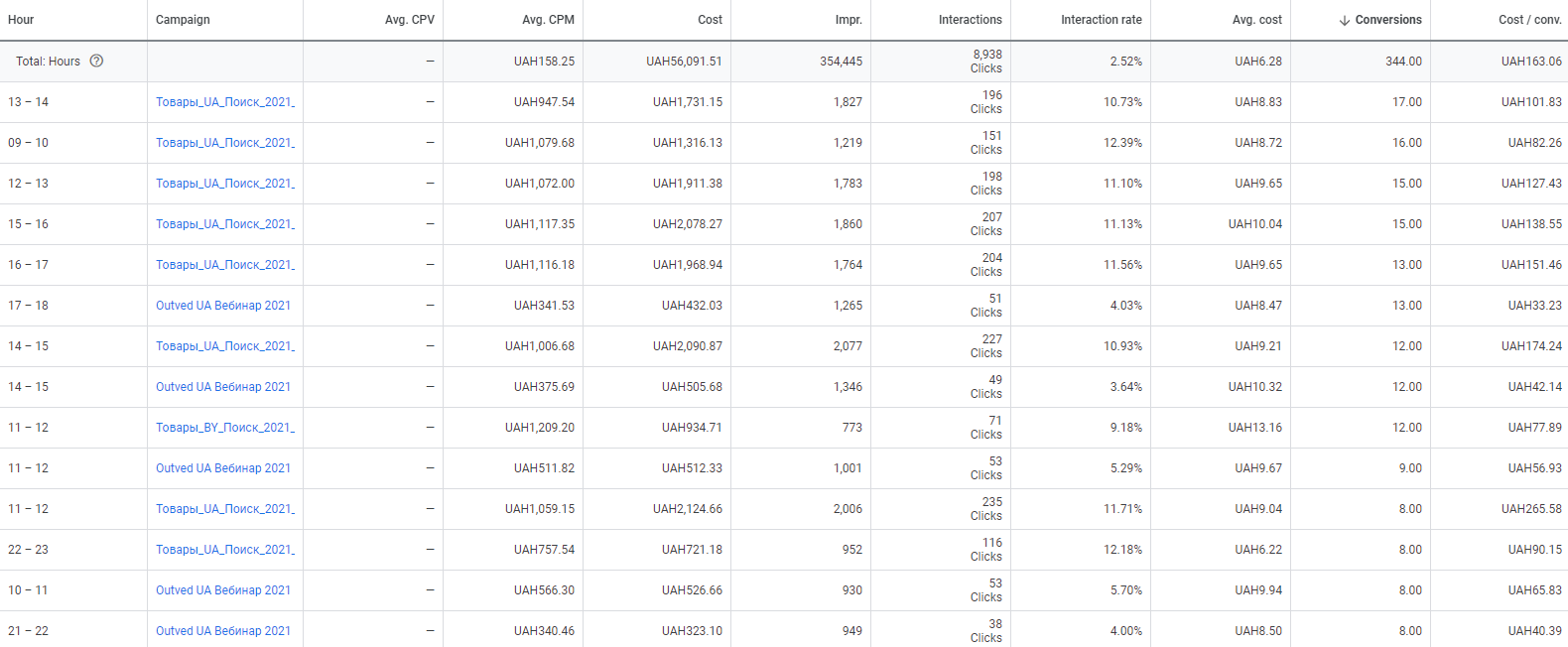 Hourly rate adjustment: +30% from 11:00 am to 5:00 pm
Launched smart and dynamic campaigns to reach low-frequency keywords that don't show ads in regular Search.
Added responsive ads where we tested different offers and descriptions.
Negative keywords have been carefully worked out.
We tested several landing pages for efficiency with different lead magnets (Audit of foreign economic activity, Critical points of foreign trade, Free diagnostics, Export consulting).
Stopped expensive and ineffective client video campaigns with extra high cost of calls.

Disable video campaigns that are not performing well
3

Results

For 2 months of work on the project, we received 348 requests from advertising, which is 5.5 times more than the client's result for the same period. We also reduced the cost of conversion from 545 UAH to 167 UAH (more than 2 times).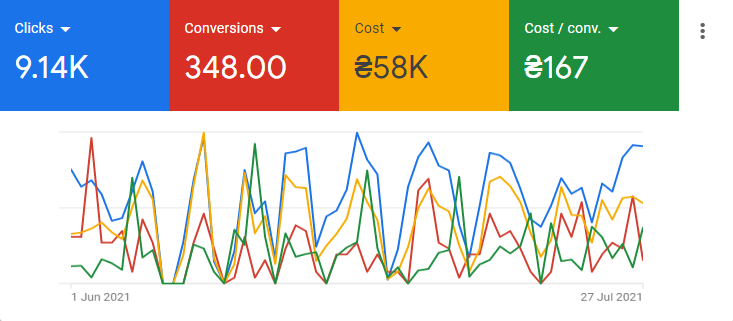 4

Conclusions

Our experience has shown that with a thoughtful approach, even using low-frequency and non-commercial queries in a competitive environment, it is still possible to attract traffic and leads. This requires the next:
Use Extra Lead Magnets. For example, a campaign advertising a webinar worked great for us, where speakers discussed the nuances of companies' foreign economic activity. We managed to attract more than 100 owners and tops of local companies that are trying their hand at foreign markets.
Regularly check reports on conversions, age, gender, time of day, etc. So you will receive reliable data and optimize the campaign without wasting your budget.

Test landing pages and various offers. Ads CTR and the number of hits can be completely different. For example, you can clearly see the difference in ad campaigns for the same keywords, but with different landing pages.
Use Smart Campaigns, when the price in the Search is too high.
Don't be afraid to increase budgets and bids for specific keywords. It is better to bring fewer users who will leave an application and bring real profit to the company than to attract cheap and low-quality traffic.