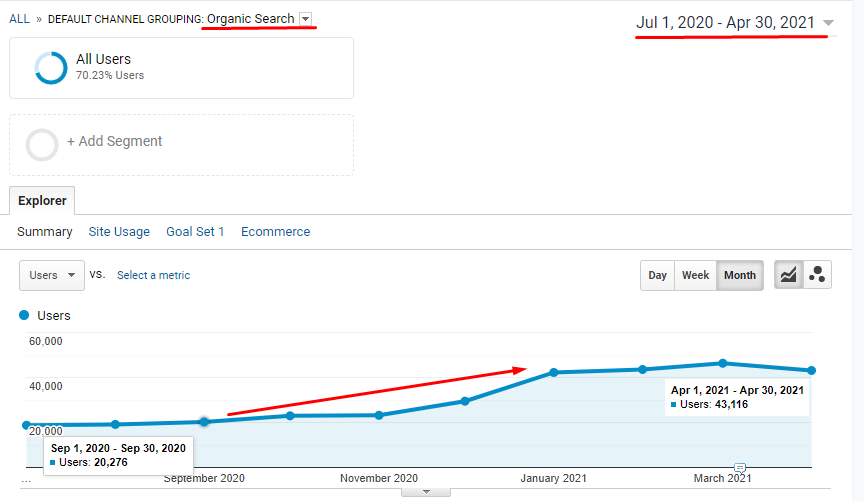 Website traffic dynamics from September 2020 to April 2021
1

Task

A client contacted Netrocket with a request to increase organic traffic to a website dealing with the sale and rental of apartments in Miami. According to the owner, the traffic has been stable for several years. And the main goal set by the client was to increase sales through the SEO channel.

Organic traffic of the client's website before the start of SEO work: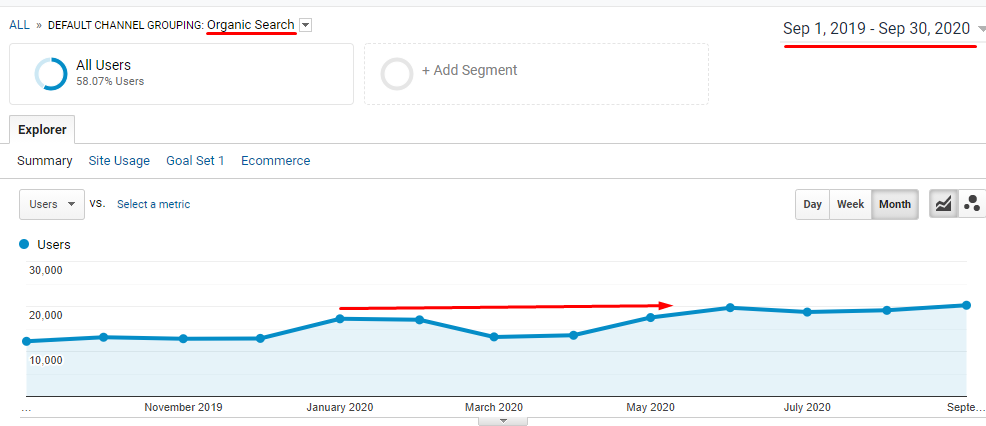 2

What was Done

Internal optimization
We completed a technical SEO audit of the site and drew up DEV specifications to fix technical errors.
Made Keywords Research.
Analyzing the keywords and competitors' site structure, we concluded that it is necessary to expand the site structure. It is advisable to make pages for new district buildings. We also divided ads by segments: new buildings, apartments on the coast, premium real estate.
Worked on the internal linking of the site.
Made a list of filters for the website.
Created templates for writing content for each type of page.
Optimized meta tags.
External optimization
Analyzed the backlinking profile of competitors.
Determined a link-building strategy.
We widened a backlinking profile from high-quality thematic resources every month.
Analyzed the dynamic of growth and quality of the external link profile.
Analytics
Monitoring changes in organic traffic and conversions.
Analysis of behavioral factors. Reoptimization of pages with low rates.
Analysis of site indexing in Google Search Console.
Analysis of changes in site positions.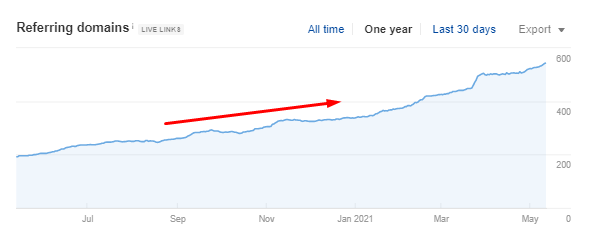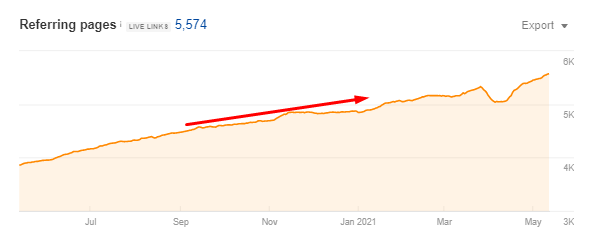 Backlinking profile growth
3

Results

Statistics in Google Analytics

We started SEO works in September 2020. By April 2021, we achieved a 112% growth in organic traffic.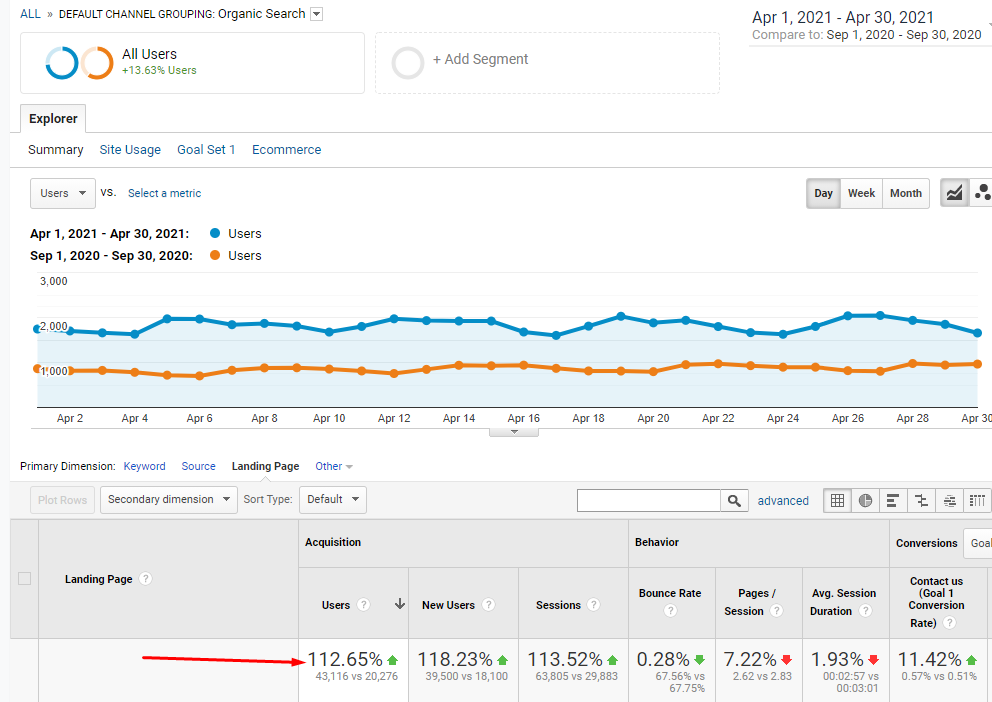 SEMrush Statistics
Organic traffic and keywords: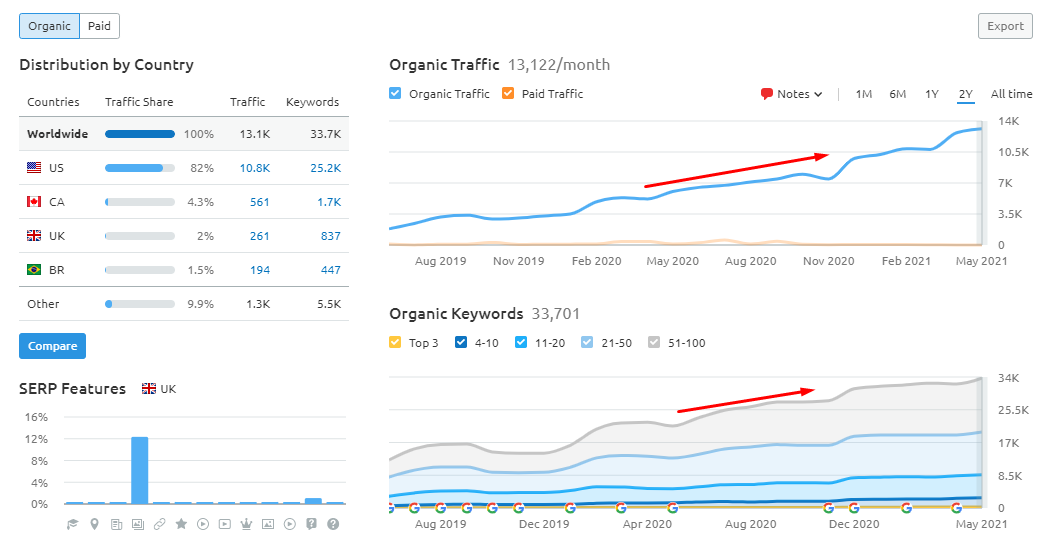 Link building statistics: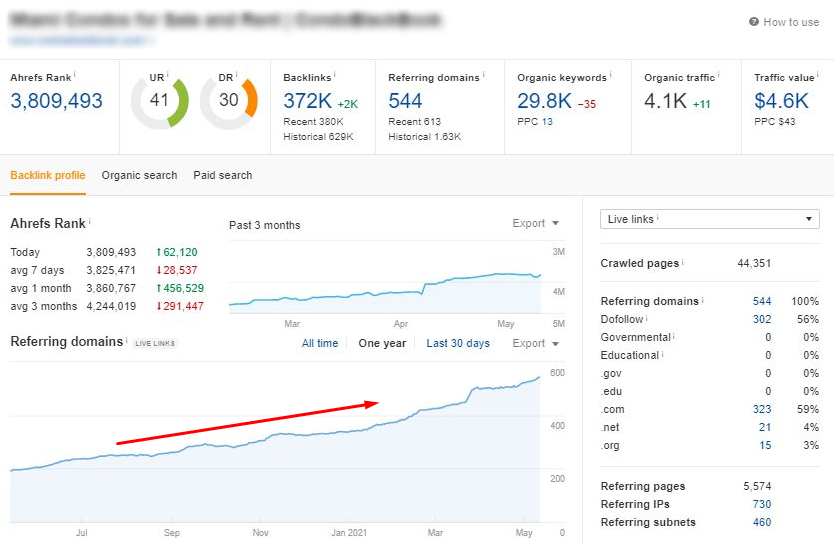 Google Search Console Statistics
Clicks
Impressions

4

Conclusions

We completed the task set by the client. We have identified several essential details that help successfully promote a site in a narrow competitive topic:
SEO friendly structure of the website

Analyzing keywords and competitors' sites is essential to build the correct site structure. Then you need to create and optimize new landing pages.

Constantly checking

To monitor the position, traffic, and behavioral factors to determine the "weak" pages on the site.
Technical on-page optimization

The slightest technical error can lead to positions and traffic decreasing. Therefore, it is crucial to crawl the site regularly.

Backlinks

It is crucial permanently to monitor the activity and dynamics of competitors' link profiles. This work will help correctly draw up and adjust the strategy of external website promotion.