If you're building an eCommerce website, search engine optimization (or SEO) will play an important role in your success. SEO will help drive organic traffic to your website and increase sales. But which eCommerce platform is best for SEO? Let's explore the options and explain why SEO is so important for your eCommerce site.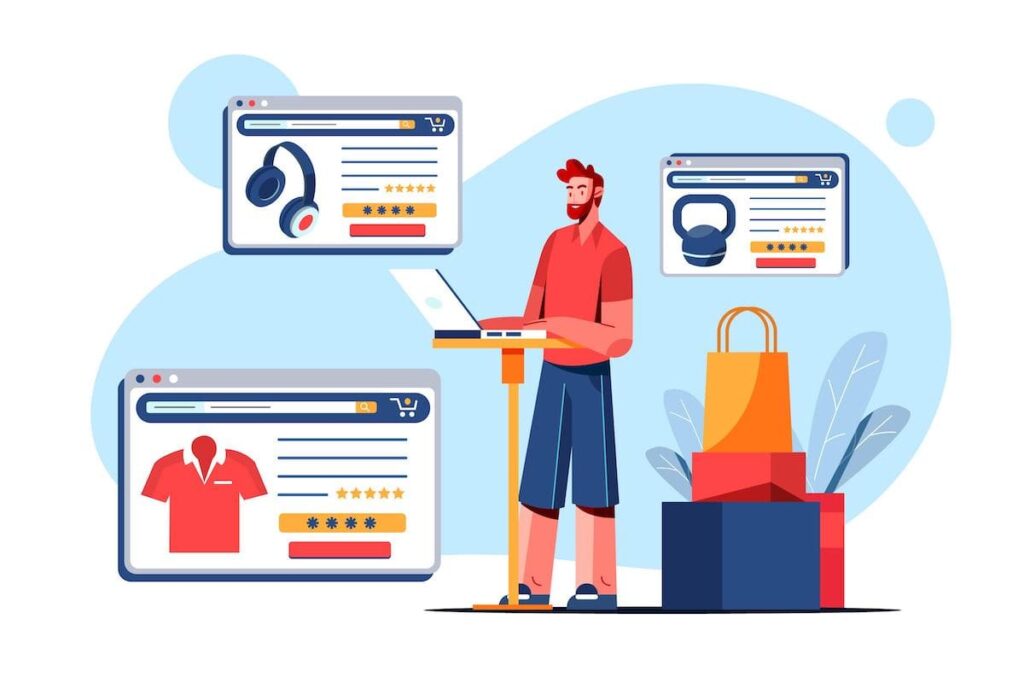 Is SEO Important For eCommerce?
Yes, SEO is important for eCommerce websites. Optimizing your website for search engines will help improve your site's rankings in the search results. The higher your website ranks for your targeted keywords, the more organic traffic it will receive.
More traffic generally leads to more conversions.
eCommerce platforms are a convenient way to allow visitors to make purchases through your online shop. However, it's important to choose a platform with SEO-friendly features, such as:
URL optimization
Page speed
Content optimization
Site structure
Mobile-friendliness
Platforms that give you control over these components will allow you to build a site that's well-optimized and more likely to rank higher in the search results.
Evaluating eCommerce Platforms for SEO
You know the importance of search engine optimization, but which ecommerce platform is best for SEO?

WooCommerce
WooCommerce is an open-source eCommerce platform and WordPress plugin that offers both free and paid options. It's used by more than 3.9 million online stores and 23% of the top 1 million eCommerce websites.
Needless to say, it's one of the top eCommerce platforms out there.
More importantly, WooCommerce is very SEO friendly right out of the box.
SEO Features
Add and edit product titles
Add and edit unique product descriptions
Optimize slugs
Enable breadcrumbs
Use product tags and categories
Add alt text for images
Add SEO titles and descriptions for your product categories
Advantages
Add and edit important on-page SEO elements, including titles, content and more
Integrates with plugins like Yoast SEO for further optimization
User-friendly interface
Multiple plan options
WooCommerce is only compatible with WordPress websites
You'll need plugins and workarounds to implement schema and structured data or to edit the robots.txt file
Working with a professional that offers WooCommerce SEO services can help you overcome these challenges.

Shopify
Shopify is another popular eCommerce platform used by millions of merchants around the world. Shopify makes it easy to build your online shop and offers tools for marketing and business management.
Unlike WooCommerce, Shopify is not connected to WordPress. They offer online store builder tools that make it easy to get your shop up and running.
SEO Features
Robots.txt and sitemap.xml are generated automatically
Canonical tags are generated automatically and added to pages
Edit title tags, meta descriptions and URLs for products, pages, blog posts and collections
Edit alt text for images
Advantages
Build your entire online shop right through Shopify
User-friendly interface
Multiple plan options
Limitations
No control over the robots.txt file
Restricted URL structures
Although Shopify does have some SEO limitations, an SEO Shopify expert will be able to implement workarounds and find alternatives to overcome these issues.

BigCommerce
BigCommmerce has been around for years and has 50,000 stores on the platform. While small compared to Shopify, it does have a lot of key features that make it powerful:
SEO Features
Auto-generated, SEO-friendly URLs
Competitor analysis tools
Metadata editor
Content editor
Keyword research tools
Advantages
Easy to edit microdata
301 redirects and URL rewrites
Built-in CDN
Team works heavily on technical SEO
Limitations
Built-in CDN gives you less freedom to choose another CDN
Lacks more advanced on-page SEO features
BigCommerce's team does work diligently to improve their SEO, and they've made a lot of advancements in recent years.

Squarespace
Squarespace has a strong reputation for its design, but is it good for SEO?
SEO Features
H1 – H6 control
Full control of meta tags and descriptions
Image alt text optimization options
301 redirect offers
Google AMP
Integrates with Analytics and Search Console
Advantages
Easy to use
Stunning designs
Clean code
Limitations
Lacks advanced schema markup options
Templates can have their own issues
Which eCommerce Platform Is Best For SEO?
The eCommerce platforms above are some of the best in the world.
Which one do we think is best?
For SEO purposes, we recommend Shopify or WooCommerce.
WooCommerce allows you to add Google Analytics, offers extensive built-in analytics and gives you control over your site's structure and design. Shopify's platform has its own set of built-in features, automatically prevents duplicate content and allows for a high level of control over your on-site SEO.
We recommend WooCommerce and Shopify for anyone who wants to create their own new eCommerce store.
Conclusion
Which eCommerce platform is best for SEO? We provided two choices that our team has made, but you can try them all for yourself. If you want to take a hands-off approach to your site's creation and SEO, our team can help.
Our team has decades of combined experience and a long list of results to show how our service can help you grow your online store.
Click here to discuss your needs with our manufacturing SEO agency.