❃ Increase in visibility — according to Se Ranking and Semrush, increase in organic traffic — according to Google Analytics.
1

About the client
Niche: Education
CMS: WordPress
Promotion region: USA
Netrocket has been approached by a company offering services in ear training for musicians. The client developed an author's methodology for developing a professional skill. It has no analogues in the world and can be useful for beginners and experienced musicians, conductors, singers, arrangers and dancers.
2

Challenge

The company came to us in July 2022. Despite its unique approach to ear training, which is radically different from commonly accepted, popular methods, few potential customers knew about the company.

Netrocket's top priority was to increase the website's visibility in the Google search engine. The first positions in the search results would allow as many musicians as possible to learn about our client.
3

Solution

First and foremost, our team of SEO specialists conducted a technical audit and a detailed analysis of the niche. After analyzing our client's website structure, conducting an audit of landing pages, and reviewing competitors, we developed a comprehensive promotion strategy. This strategy included both on-page and off-page SEO optimization techniques.
4

What we did
on-page SEO optimization
We fixed the technical errors identified during the audit.
We collected all thematic search queries from users and keywords used by competitors in the promotion.
We expanded the site structure using the collected semantics. Created new categories and subcategories.
We performed on-page optimization for priority pages.
We added relevant expert content to new pages.
We wrote meta tags for each page of the site.
We adjusted internal cross linking.
We resumed work on the blog and wrote several blog articles using key informational queries.
off-page SEO optimization
We have developed a link-building strategy.
We have posted materials on authoritative thematic resources.
We have registered the company in business directories.
We have used crowd-marketing methods and posted expert responses in thematic blogs, surveys, and forums.
5

Results

After six months, in November 2022, we presented our interim results, which confirmed the effectiveness of the proposed strategy.
Google Tools
The organic traffic chart in Google Analytics for the period of July to November 2022: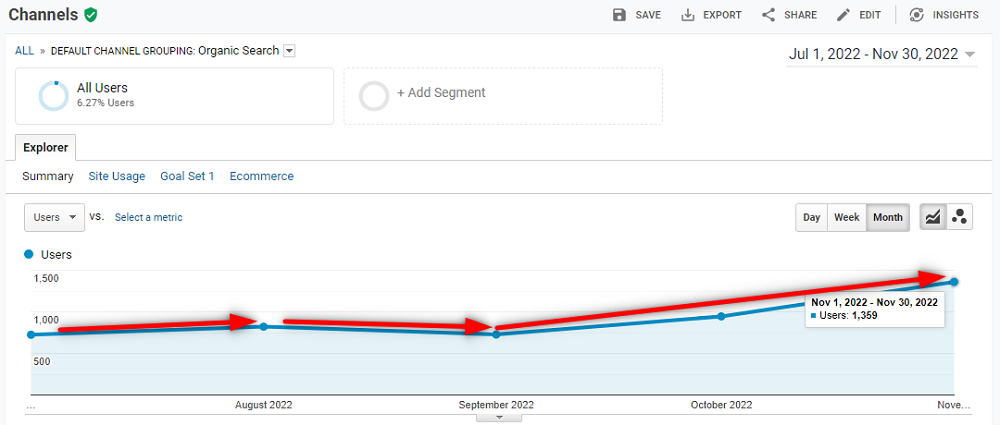 In addition to
the increase in organic traffic by 93.31%
, the number of new users and sessions has also grown: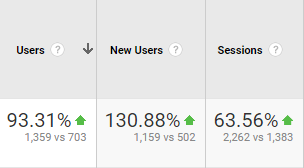 Google Search Console (GSC) metrics for 6 months:

Comparison of Google Search Console metrics before and after 6 months of SEO optimization
by Netrocket specialists:

Over six months, the number of click-throughs increased by 68%, and the number of impressions increased by 4 times!
Ahrefs
The tool showed an 839% increase in organic traffic:

You can also see how the website's visibility has improved. In July, there were 6 key phrases in the top 1–3 positions, but by November, there were already 9. There were only 3 search queries in positions 4–10, but after six months, there were 48! Overall, the website's visibility increased by 284%!
Keywords data as of July 1, 2022:
Keyword data as of December 1, 2022: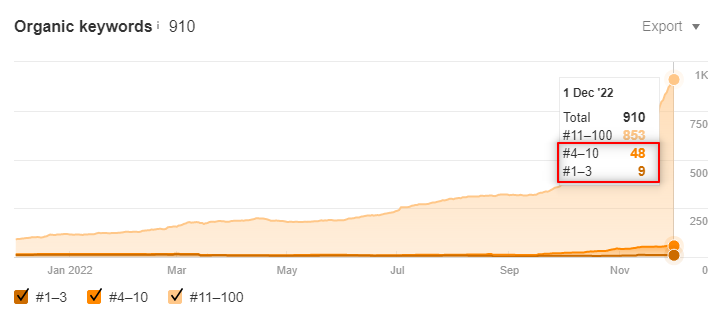 Semrush
According to the chart, organic search traffic increased by 667%!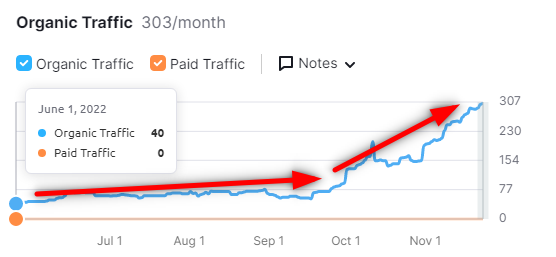 The website's visibility increased by 251%. 10 new search queries appeared in the top 3, 51 in the top 4–10, and 90 in the top 11–20.
Keywords Data as of June 1, 2022: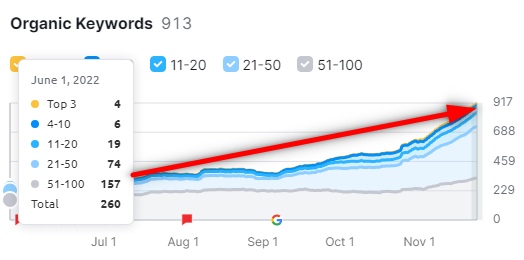 Keywords Data as of November 30, 2022: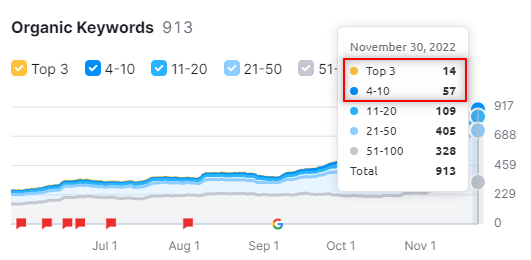 Se Ranking
Keyword data in the top 10 over the past six months:


6

Results

6 months of SEO optimization work on the platform brought to our client:
A 93% increase in targeted traffic!
45+ keywords in the top 10.
+130% new users.
Increase the visibility of the resource in search results by more than 200%!
The work of SEO specialists continues, so this is only an intermediate result. But even these data show: comprehensive SEO promotion works even in complex, specific niches.