Organic traffic before the start of work and after 12 months
1

Task

Our client is a Ukrainian construction company that renovates apartments, houses, and office space. At the time of contacting Netrocket, the client decided to leave the provision of point services and focus on turnkey repairs. Such a change of direction required a change in SEO strategy and improved WordPress SEO.
2

What was done
The template, the site ran on in 2021 looked outdated. Colors, styles and buttons have been refreshed to give the site a more modern look. They refused to buy a new theme and move.
The site structure ooked too bloated. Many individual services were no longer provided by the client. The main focus is on integrated turnkey works. Therefore, we decided to shorten the site structure, completely abandon dozens of pages and set up redirects. Some pages have been redesigned and moved to the blog in order to maintain weight and targeted traffic.
The expected traffic decline is clearly visible on the chart in December 2021
We worked on expanding the blog — we wrote articles that could bring organic traffic and convert it.
Added internal linking between articles and priority services pages.
Reworked meta tags for the remaining services.
Reinforced the pages of priority services with a few outreach links from the strongest news and thematic sites in Ukraine.
We analyzed all existing backlinks and sent a large list of sites with low DR, traffic, trust and high spam for disapproval.
We added "unique" types of microdata to TOP pages to increase CTR and got a very noticeable increase in %.
3

Results

Ahrefs Organic Traffic & Keywords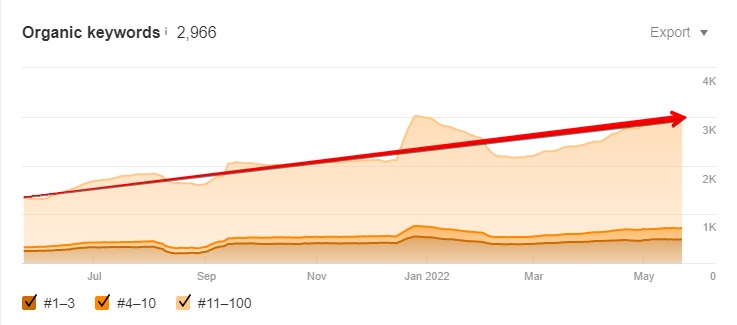 SEMrush organic traffic and keywords


Volume of rejected low-quality donors according to Ahrefs

Domain Rating (DR) change according to Ahrefs

Google Search Console statistics — clicks

Google Search Console statistics — CTR

Google Analytics organic traffic statistics

4

Conclusions

A well-designed strategy and complex work with internal and external ranking factors allowed us to increase organic traffic to the client's website by more than 300% in 12 months.