Organic traffic for the period from March to June 2021
1

Task

Our client is a manufacturer of French perfumes to order. He contacted Netrocket with a request to increase the site's visibility and traffic from organic search results. The tasks for our specialists were the following: analyze the current state of the site, detect possible issues and errors, and make recommendations for further promotion of the resource.
For reference:
Further, we are talking about direct and "dark" traffic statistics in Google Analytics, so let's explain:
Direct traffic is one of the main traffic sources. It is made up of people who enter the URL directly into the address bar or search bar. Such queries bypass Google search, bringing visitors to the site in the shortest way.
«Dark» traffic is hidden traffic, which may be shown as a direct one. People come to the site through advertising in social networks, e-mail distribution, advertising campaigns, even from organic search results, but the system still classifies visitors as Direct traffic.
«Dark» traffic distorts visitors' statistics, making it impossible to assess the effectiveness of various methods of promotion correctly. Therefore, SEO specialists need to recognize the problem quickly and bring "dark" traffic to light.
2

Technical Audit of the client's website

On the client's website, regional versions are implemented in subdirectories. During the auditing, we spotted the following issues:
All regional versions, except the main one (for the Singapore region), were not indexed since the canonical page for them was the main one.
Hreflang tags (for sending localized versions of the page to Google) for regional versions on the site were implemented with errors and are not specified for all versions.
An automatic redirect for the region was set up on the site. That is, a user from France automatically redirects to the French version. You cannot switch to another version manually. At the same time, the region was not always determined correctly. And some users could not get to the right page either from the first or the second time.
4

Results

After fixing technical errors, we can see an increase in organic traffic.

The increase compared to the previous period was 585% in 2 weeks.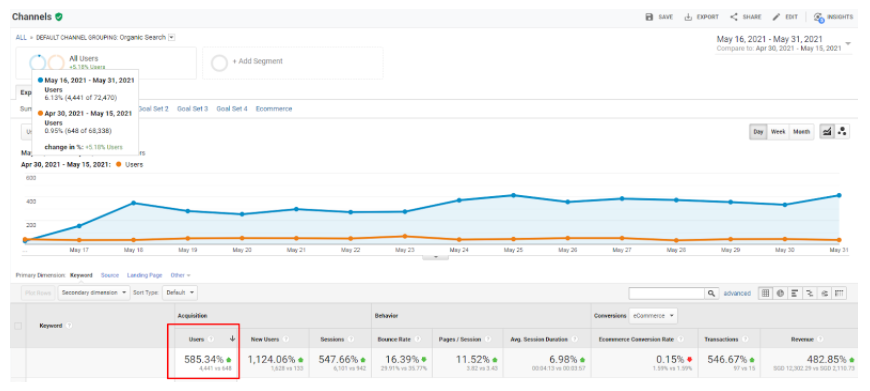 It would seem that excellent results. But when we dug deeper, we found that the traffic on the site was at this level before, only hiding in the Direct category — that is, it was mistakenly counted as direct visits.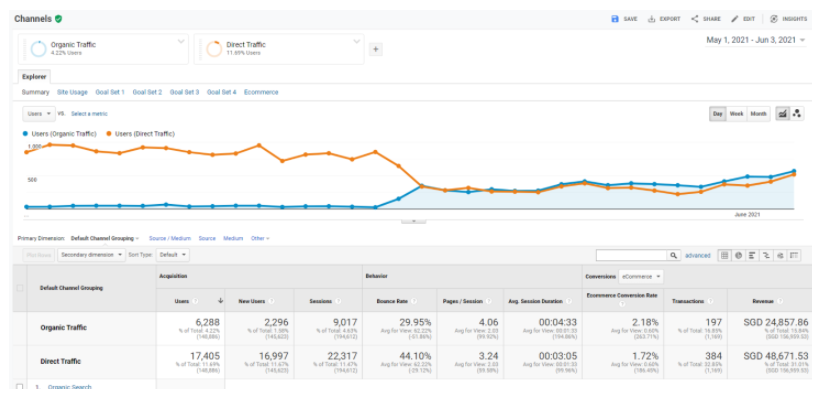 5

Conclusions

As soon as we implemented technical edits, spelled hreflang, and removed the automatic redirect for the region, Google Analytics changed its data and began to consider it more correct. And in fact, it didn't record an increase in traffic but filtered out transitions from the organic output.

If you have a direct traffic metric above 30%, we advise you to beware. Perhaps your company is so famous. But Google Analytics has likely identified the traffic that doesn't actually belong to it in the Direct channel.