Comparison of metrics from the GSC of the last 3 months with the previous period
1

Client's main problem

Our customer sells e-scooters online in a highly competitive market sector. Among his competitors — major retailers such as Adventon, Rad Power Bikes together with companies that specialize in separate fields particularly Pedego, Juiced Bicesu, etc

The customer approached us with an issue with the site's functionality, which was launched in 2014, but currently has a total of around 933 organic users each month according to Ahrefs data. These numbers were much lower than those of direct competitors. The task was to increase organic traffic.
2

Our SEO strategy for an online store in USA

To deal with internal and external resource promotion, it was crucial from a strategic standpoint to examine the website for technical errors and to address any internal or external promotion issues. On this basis, the following tasks were set:
1 Technical audit
Conducted a full technical audit, found and fixed errors, developed a strategy for further promotion of the site.
Eliminated visual errors in site design.
Created categories for the website's pages.
2 On-page SEO
incorporating new categories and subcategories into the structure of our website based on an examination of competitors websites;
collected a semantic core of the site;
conducted on-page optimization of priority pages;
wrote and posted texts for pages;
optimized the names of sections according to key queries;
adjusted internal cross-linking;
selected relevant topics for the development of the blog, wrote and posted optimized articles.
The site's original structure was primitive enough for efficient SEO. More than twenty additional product subcategories have been added to the site's current categories. To do this, we had to modify and improve the menu structure of the website, making it more user- and search engine-friendly.
3 Off-page SEO
wrote and posted press releases on reputable resources;
conducted business directory registrations.
3

Results

Comparison of indicators from the GSC of the last 3 months with the previous period:

23.94% increase in clicks on search results
A 12.5% growth in impressions
CTR growth of 16.1%
The average position is up 30.7%
The growth of key queries is 54.43%
Growth of impressions and clicks in search results for the previous 6 months:

Traffic growth graph for one year:

Keyword query data for July 2022:

4

The results of link promotion

We stuck to the natural dynamics of link building:

We were successful in increasing the domain rating: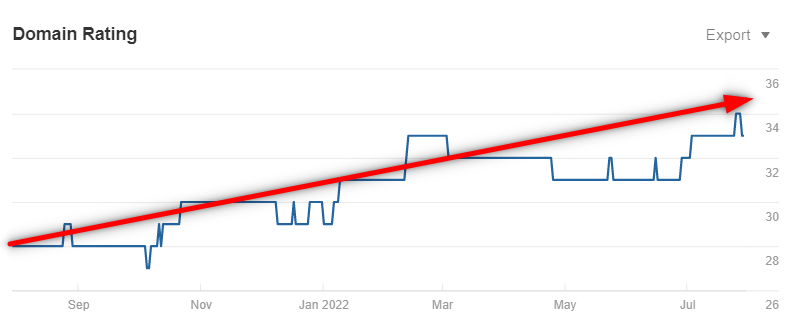 5

Conclusion

Within six months, we were able to accomplish success. found the site's errors, fixed them, and achieved the required traffic boost. We were able to fix a lot of small and serious technical errors, continue to create unique content of high quality, and set up other processes.